In an effort to make instagram a safer place for minors there are several new changes rolling out over the next few weeks; in this blog post I'm going to bring you up to date on what they are and how they may effect you.
Problem that Instagram is trying to solve
If you have been on Instagram for any length of time and running your child's account you have undoubtedly been met with inappropriate direct messages and comments. In an attempt to limit these type of interactions between minors and adults, Instagram is going to be implementing artificial intelligence in the form of machine learning.
Instagram will be exploring new "ways to make it more difficult for adults who have been exhibiting potentially suspicious behavior to interact with teens. This may include things like restricting these adults from seeing teen accounts in 'Suggested Users', preventing them from discovering teen content in Reels or Explore, and automatically hiding their comments on public posts by teens."1
To be compliant with current laws established to protect minors and more importantly children under the age of 13, many social medal companies including Instagram are making significant changes to how they run their platforms. Specifically: disabling accounts ran by children under the age of 13 or suspected to be.
Recent Press Release
What leads me to believe that Instagram will be removing accounts of users under the age of 13 or accounts posing as minors, is in their public statement:
"While many people are honest about their age, we know that young people can lie about their date of birth. To address this challenge, we're developing new artificial intelligence and machine learning technology to help us…"
Your account could be automatically disabled if instagram's machine learning determines your account to be that of a minor under the age of 13. You are particularly vulnerable to an automatic take down if when you signed up for your account it did not ask you to provide your age or date of birth.
TikTok recently released a similar press statement regarding minor safety on their platform, and subsequently numerous accounts were deactivated. One experience I've heard of from an instagram follower was her account was deactivated and new accounts immediately disabled.
Some of you may have even had your IG account disabled because instagram believed the account was setup and being used by a child under the age of 13. If you have had your account disabled due to a potential age violation, you can recover your account by following these steps on the form below.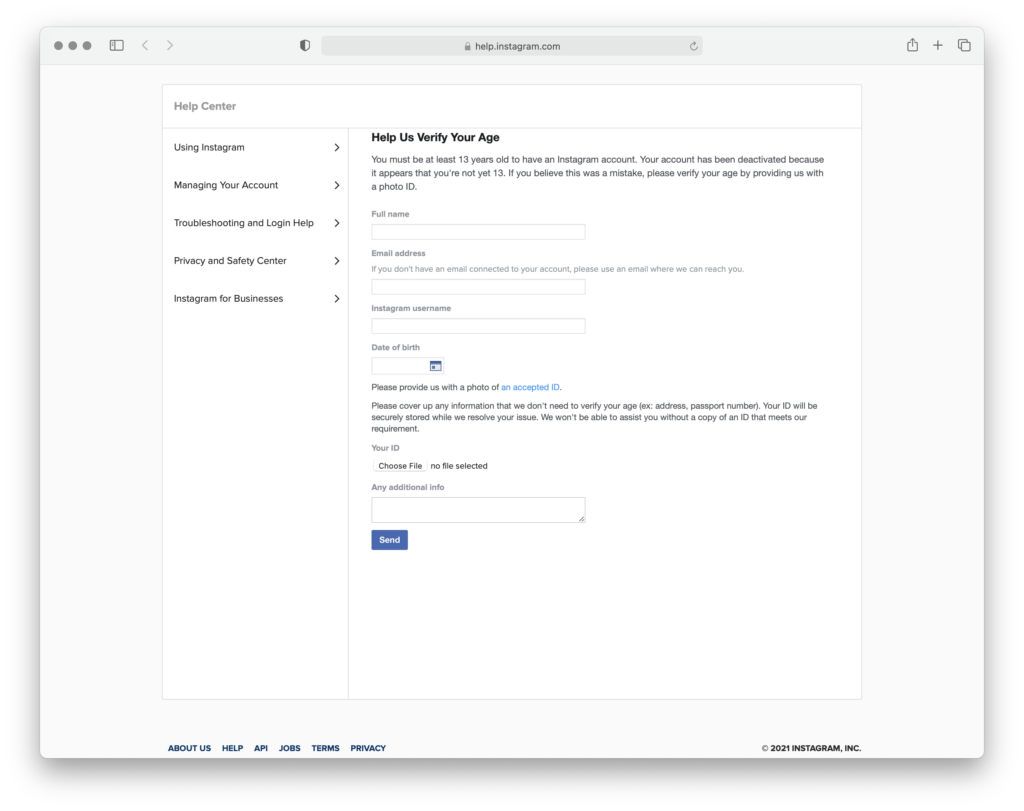 Here are some of the things that you may notice
You can expect the machine learning implementation will also have an effect on engagement of minors accounts, especially if you have not restricted or blocked accounts that do not have familiar relationships with you or your followers.
Accounts that do not follow you or you have not followed back their likes and comments may be immediately removed. Most of the comments from these accounts are typically low value and even though they will effect your engagement, they should not have an effect on the overall value of your account or the value you bring to your followers. For brand collaborations and sponsored content, companies who make decisions only based on number of followers and likes may be less interested in working with you.
Be on the lookout for future blog posts discussing what is good engagement and how to build an Instagram account that sponsors will want to line up and work with.
What you can do to protect your account from the potentially being disabled
Link your instagram account to Facebook
Do not share age in bio or post
Limit interactions with potentially offending accounts
First
If you are a parent running your Childs Instagram, the best thing to do is to link the login to your Facebook account; this will indicate to Instagram that the account is a parent owned and managed account.
If you are managing multiple accounts for your children you can link all of the logins so you are only required to have one credential. This will also allow you to cross post between multiple accounts.
Second
This may seem obvious but you do not want to place your child's date of birth or age in their bio or post. I don't believe that this machine learning will use images to identify age at this time. However, when you go to petition to get an account back that has been disabled for an age violation, there will be a human that reviews the case. If they suspect the account is set up for an underage minor, it maybe more difficult to win the petition.
Third
Limit interactions with accounts that provide no value. These would be accounts which you have no familiar relationships and comment with generic responses, or inappropriate comments. Accounts which are potentially violating Instagram's terms may end up having you grouped with them for supporting their actions. If you are ever propositioned, sent an inappropriate message or comment, these are accounts that you absolutely want to block immediately.
What to do next
If you are a creator or aspiring influencer, now is the time to set up a personal website. As your home base if your accounts are taken down, you have an opportunity to communicate with your followers and they know where to find you and your new accounts if you have to start from scratch.
Also, a personal website is an excellent place to park your affiliate links, brand collaborations, and collect your followers contact information.
1SP is in the process of building personal website as a new service and is looking for influencers who would be willing to beta test this new offering. Interested in a personal website? Let us know!